What is Proquestor Alcuin?
Alcuin is the Dutch Social Security Bank's, or UWV's, schooling database. Alcuin is Proquestor in action with The Netherlands' biggest schooling network. This flagship has been in use at UWV for years, and follows the schooling cycle of its clients closely; from application to graduation. Alcuin is linked with a current, constantly updated training register and postal-code database. Alcuin's digital coach couples clients based on relevance, whilst considering market developments, and relays the associated distance and price.
Understanding Alcuin
Proquestor Alcuin is completely web-based, and built using our homemade Proquestor platform.
The application is accessible to UWV-employees, clients and teachers.
As soon as a client has applied for an education programme, they'll enter a schooling cycle that is digitally monitored and recorded in Alcuin. Because this type of training is partially subsidised, the practices need to be properly accounted for. This is one of the reasons UWV chose Alcuin. Education programmes are costly and the choice of educator should be based on rational grounds, and must be transparent towards the taxpayer, and, in the case of ESF-contributions, Europe. 
A big part of Alcuin is the Manteon module, which couples a client with an education. In the past, this would be done with expensive advice on paper, written by even more expensive job coaches. Now, this matching is done through a rational process that seeks an optimum that ensures the client finds lasting work with their received education. The matching engine predicts which education will ensure a job, all within the framework of financial and temporal efficiency.
Proquestor Alcuin is supplied with, among others, a schooling database, a postal code database, UWV's constantly updated, current client register, and for purposes of data mining, previously completed schooling cases.
Schooling proposal: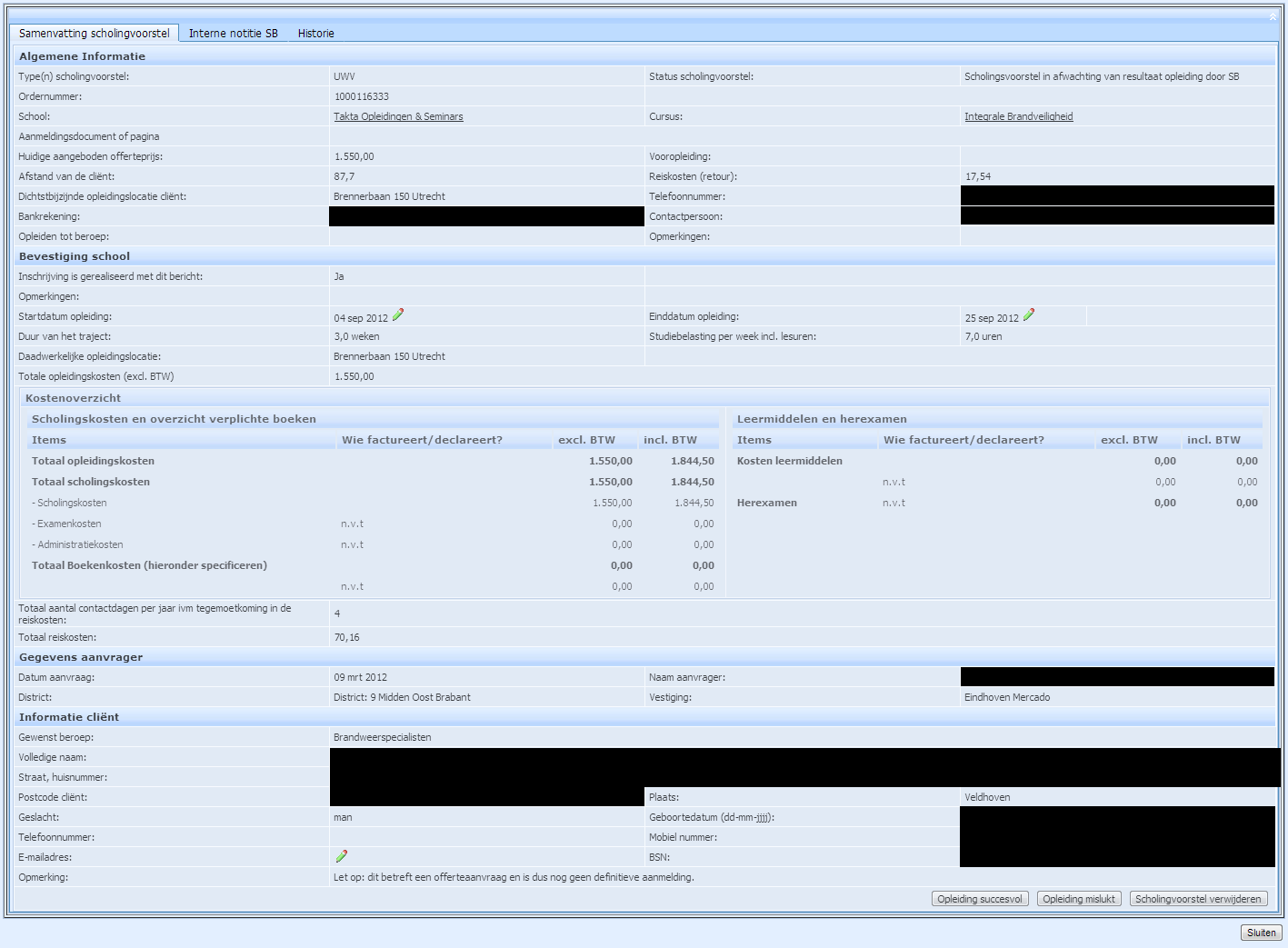 Schooling list: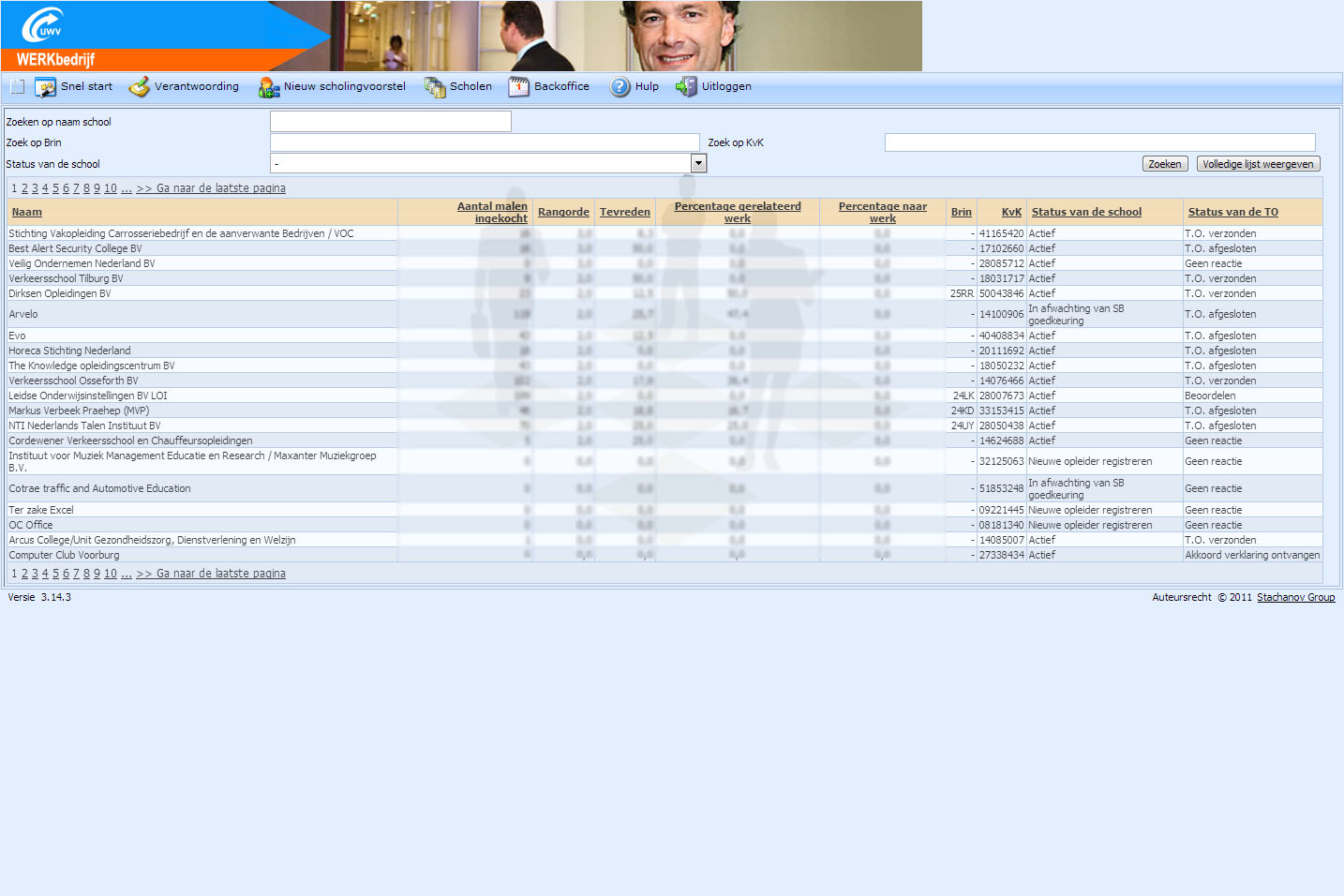 How has Stachanov implemented this for UWV?
---
It all starts with the existing GRC, an internal protocol containing the institution's – UWV in this case - work methods. Matters such as 'who decides on a schooling request?', or 'How can Brussels exercise control within UWV concerning schooling cases? ' are outlined herein. With some organisations this is a polished handbook, for other organisations such a clearly—defined procedure might still be absent.
During the building process of Proquestor Alcuin, we worked together with UWV to come to a complete GRC. This was then translated to a workflow that makes up the core of Proquestor Alcuin. Proquestor Alcuin is thus completely tailor-made. 
How does Proquestor Alcuin work?
---
The client's GRC determines the exact configuration of our platform. What are the inputs and outputs, and how do they interact? Who can do what within the system? Which steps and forms are important to what people? The answers to these questions co-determine the make-up of Proquestor's tailor-made workflow.
All steps and documentation within the system work with the submission of PDF files. These are distributed on a need-to-know basis, which means that only the relevant steps and documentation are viewable for the relevant people on the relevant times. This keeps managing schooling requests simple and manageable, making it accessible to request resources on the national and European level.
A section of the workflow: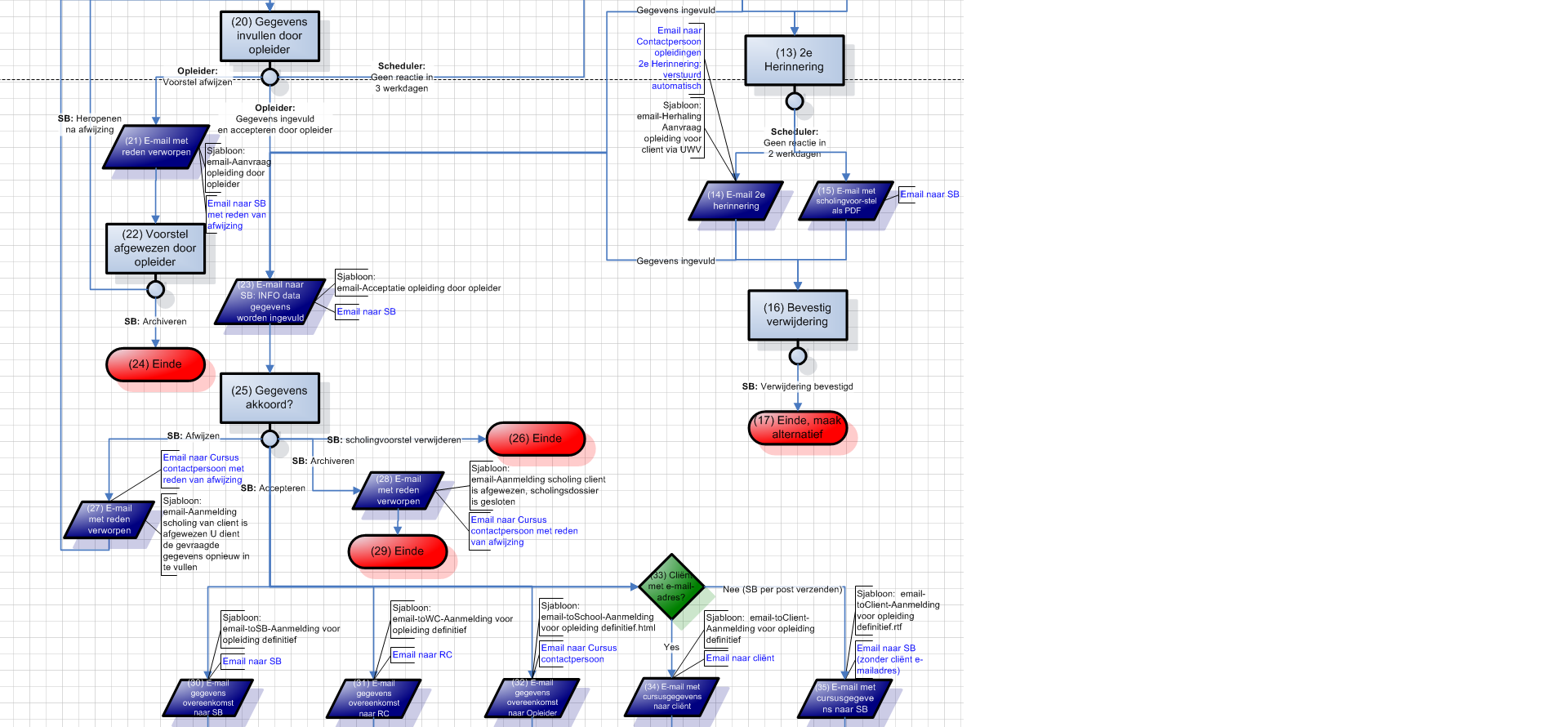 What requirements does Proquestor Alcuin meet?
---
Proquestor Alcuin covers all important laws and bylaws, as well as the relevant ISO norms, but it also complies with the e-cohesion principles stipulated by the directorate of regional policy in Brussels. 
e-Submission: everything digital, including the application process
e-Signature: electronic autographs
e-Storage: electronic document archive
Only-once encoding: recurring data need only by entered once
Interoperability: SFC2007, SFC2014, electronic communication with Brussels
Audit trail: being able to see who did what, and when
Paperless office: completely paper-free
At the e-cohesion congress in Madrid, Stachanov has received much praise for its precise implementation of these principles.
What makes Proquestor Alcuin unique?
---
Alcuin gets rid of expensive schooling advice given by even costlier advisors and lets the intrinsic value of archived schooling cases speak for itself: by applying modern data-mining techniques, Alcuin selects the right course for each client.
Alcuin is almost completely built with open source elements. Thus the system is much cheaper than other systems, which require expensive licenses to be built.
The bookkeeping is completely integrated. Nothing happens outside of the system. From application, to management, to end reporting: the entire schooling cycle is digital.
Why is Stachanov so well-equipped to build this?
We're not only a highly qualified technical company that adheres to all ISO standards, we also have extensive knowledge of the matters at hand, being schooling and UWV, and we make use of a high-end co-location. We know what we're talking about and offer, besides a platform, client-specific implementation and cover-all hosting well after the job is done.


Why is Stachanov so suitable to maintain this?
---
Implementation is a completely different playing field than servicing and hosting. Service Level Agreements, or SLAs, are taken seriously by us and meticulously executed. This means, very concretely, that maintenance tasks, such as performance monitoring and periodic availability reporting, are performed at scheduled moments as stipulated in the SLAs.
Our help desk consists of experts that know UWV through and through, and are accessible through phone or email 9 hours per day. It follows from the availability reports for all Proquestor installations that Stachanov realised an up-time of 99,7% in 2013.
Service matters such as hosting, functional help, internet management, change management, and service request management all adhere to strict procedures that are completely clear, transparent and accessible to the client. The client can, at all times, see what we're working on through Jira, our workload management system.
In addition, we take care of the following backups simultaneously:
Daily, four-hour mirroring of the database at "location A"
Weekly backups of the system and database at "location B"
Monthly hard-disc backups of the system and database in a safe at "secret location C"
Monthly transferal of the system and database to live pseudo Escro at "location D"
Quarterly hand-over of a physical DVD with the backups of the database to UWV
"Location A" runs two systems: the acceptance environment and the product environment. This ensures that changes only take effect when the client is satisfied with them.