What is Proquestor Kansen voor West?
---
Proquestor Kansen voor West (Opportunities for West) is a paperless office to register, maintain, and manage subsidy requests for the European Regional Development Fund. "Process management system", "document management system" (DMS), and "client tracking system" are all good descriptions of Proquestor Kansen voor West.
The Netherlands has been split into four areas by the European Regional Development Fund, with "West" making up a quarter. Every seven years, Brussels launches a new operational programme, which allows companies and public organisations alike to request subsidy for projects that promote a region. 
A serious subsidy request begins with a registration, is then submitted, managed, and reported on. Kansen voor West is an accountability instrument that streamlines and intuitively shapes this entire process, but especially makes it crystal clear and easy to use.
How is Proquestor Kansen voor West built?
---
Proquestor Kansen voor West is a completely web-based suite, based on our homemade Proquestor platform. The term "suite" lends itself well, because Kansen voor West is not just one programme. Rather, it is a complete package consisting of five building blocks:
The portal for the applicant / beneficiary [link]
The portal for the civil servants / case managers [link]
The reporting module [link]
The Wiki knowledge bank [link]
The public website [link]
The reporting module: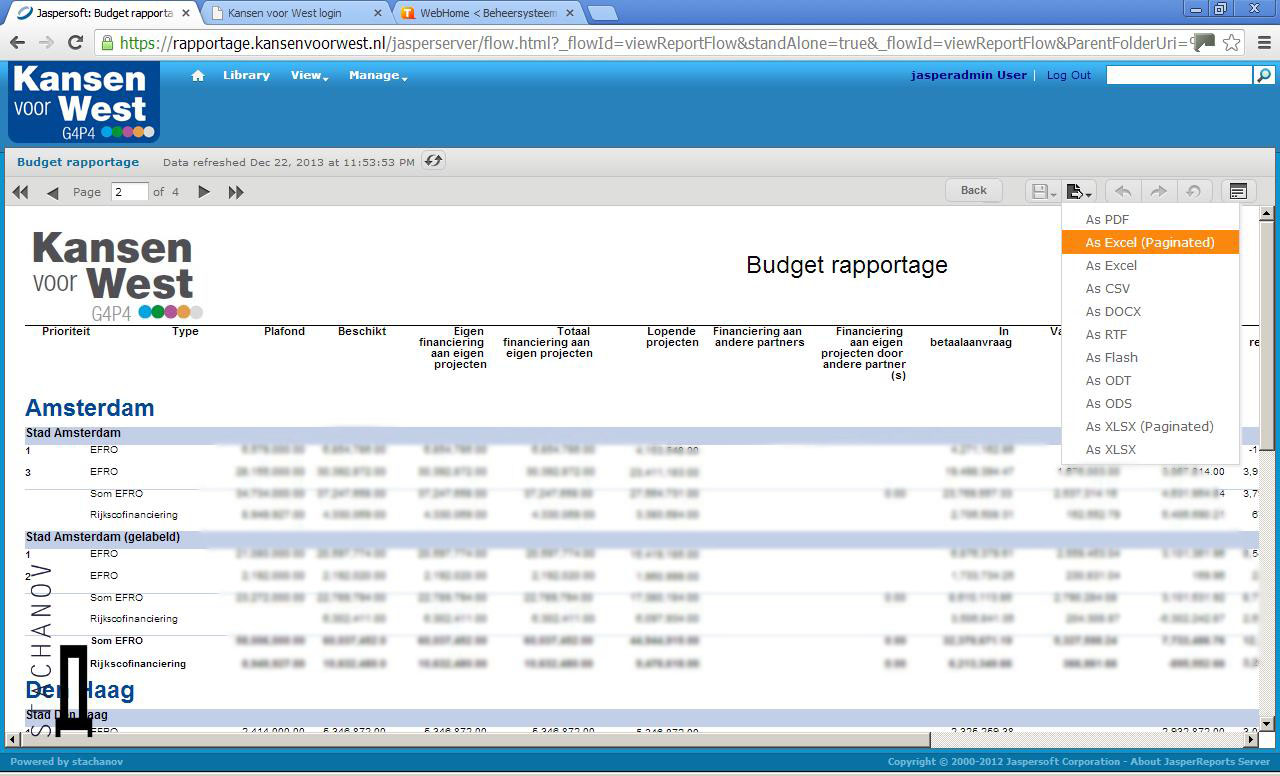 How has Stachanov implemented this for the Western region?
---
It all starts with the existing procedures, or Governance, Risk & Control (GRC). This is an internal protocol containing the organisation's work methods. Matters such as 'who decides on an application?' or 'How can Brussels exercise control over the organisation?' are detailed herein. With some organisations this is a polished handbook, but for others a clear procedure might still be absent.
To build Proquestor Kansen voor West, we worked together with the Western region to come to a complete GRC. This could then be translated to a workflow that would make up the core of Proquestor kansen voor West. Proquestor Kansen voor West is completely tailor-made.
How does Proquestor Kansen voor West work?
---
The customer's GRC will determine the exact configuration of our platform. What are the inputs and outputs, and how do they interlink? Who's allowed to do what within the system? What steps and forms are important to which people? The answers to these questions co-create Proquestor's custom-built workflow.
All steps and documentation within the system work with the submission of PDF files. These are distributed on a need-to-know basis, which means that only the relevant steps and documentation are viewable for the relevant people on the relevant times. This way, subsidy requests in general, and the European Fund for Regional Development especially, remain simple and manageable. This makes knocking on the EU's door to obtain resources accessible.
TAN upload: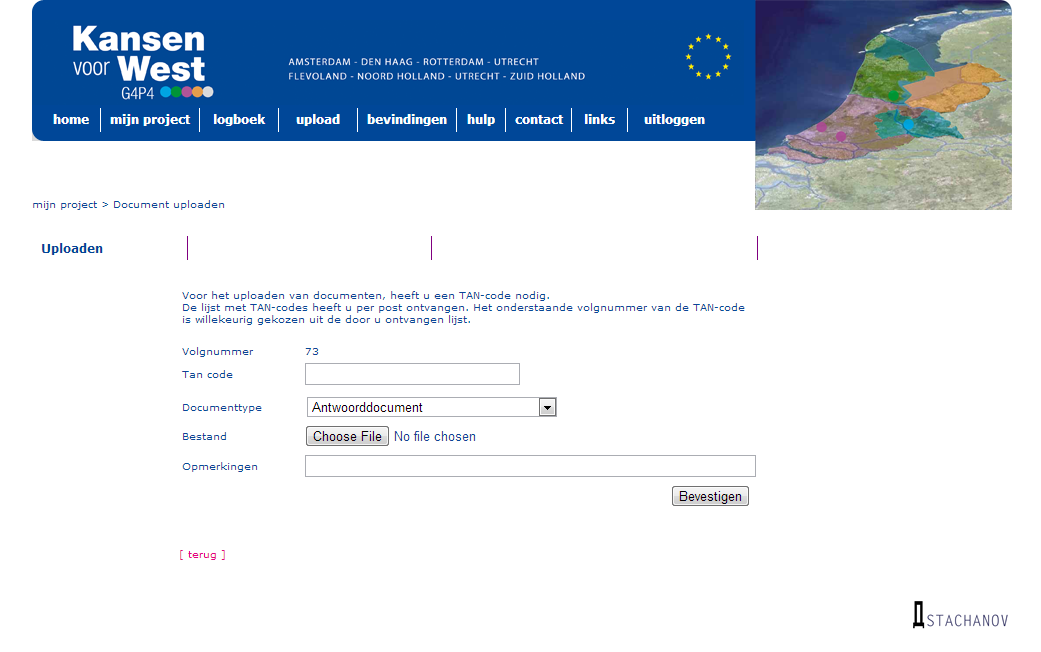 What does Proquestor Kansen voor West adhere to?
---
Proquestor Kansen voor West covers all important laws and bylaws, as well as the relevant ISO norms, but it also complies with the e-cohesion principles stipulated by the directorate of regional policy in Brussels. To get Europe "around the corner" through uniform work methods and cohesion in the field of case management, Proquestor Kansen voor West employs the following e-cohesion principles:
e-Submission: everything digital, including the application process
e-Signature: electronic autographs
e-Storage: electronic document archive
Only-once encoding: recurring data need only by entered once
Interoperability: SFC2007, SFC2014, electronic communication with Brussels
Audit trail: being able to see who did what, and when
Paperless office: completely paper-free
At the e-cohesion congress in Madrid, Stachanov has received much praise for its precise implementation of these principles.
What makes Proquestor Kansen voor West unique?
---
Kansen voor West is a trailblazer in the field of e-cohesion
Kansen voor West is completely built with open-source elements. Hence, the system is competitively cost-effective, as other systems require expensive licenses to be built.
Kansen voor West has received an exceptionally high score from the state's audit service; an 8,8 out of 10 on the KR6 scale. This is a label that is not tied to an organisation, like ISO, but rather to a product.
The bookkeeping aspect is completely integrated. Nothing happens outside the system.
From application, to management, to end reporting: everything is digital.
Why is Stachanov so well-equipped to build this?
---
Not only are we a highly qualified company that adheres to all ISO norms, we also have extensive knowledge of implementation, and we make use of a high-end co-location. We know what we're talking about, and offer, besides a platform, customer-specific implementation with comprehensive servicing after completion.
Why is Stachanov so suited to maintain this?
---
Implementation is a completely different playing field than servicing and hosting. Service Level Agreements, or SLAs, are taken seriously by us and meticulously executed. This means, very concretely, that maintenance tasks, such as performance monitoring and periodic availability reporting, are performed at scheduled moments as stipulated in the SLAs.
Our help desk consists of experts that know Kansen voor West through and through, and are accessible through phone or email 9 hours per day. It follows from the availability reports for all Proquestor installations that Stachanov realised an up-time of 99,7% in 2013.
Service matters such as hosting, functional help, internet management, change management, and service request management all adhere to strict procedures that are completely clear, transparent and accessible to the client. The client can, at all times, see what we're working on through Jira, our workload management system.
In addition, we take care of the following backups simultaneously:
Daily, four-hour mirroring of the database at "location A"
Weekly backups of the system and database at "location B"
Monthly hard-disc backups of the system and database in a safe at "secret location C"
Monthly transferal of the system and database to live pseudo Escro at "location D"
Quarterly hand-over of a physical DVD with the backups of the database to the Western region
"Location A" runs two systems: the acceptance environment and the product environment. This ensures that changes only take effect when the client is satisfied with them.
Specific qualifications:
Laws and regulations on a local, national, and EU scale
ITIL for the Business as Usual (BAU) phase after implementation
ISO standards
ISO-14001
ISO-9001
ISO-27001
Prince2 for the project phase
Six Sigma for quality improvements in project and management