Introduction
The Proquestor ZIU case management system is our flagship in healthcare and has been deployed at a rapid pace: 6 months from specs to acceptance.
This workflow system enables VIG-cases to be applied for, managed and completed; from intake to monitoring, and adheres to all relevant digital security and healthcare laws and procedures as of 2017. ("VIG" is a term in Dutch healthcare and re-integration, applied to families requiring governmental guidance and assistance).
Proquestor ZIU has been developed using our Proquestor building blocks with a tailored finish.
Personal data are protected as per Dutch privacy laws and our ISMS ex ISO 27001:2013.
The cooperation with Stachanov, their knowledge and mutual understanding were up to such a level that there little time needed before they understood what I needed. In no-time my system was implemented and my old files could be transferred. Proquestor is nice an minimalistic, without fancy unnecessary features. It does I want it to do, nothing more, nothing less. 
- Mike Heuves, CEO Zorg in Uitvoering

Development
Proquestor ZIU has been specified per the client's demands over the course of two meetings. Core demands were:
Extra environment for applications submitted by external parties, accessible to
Data transmission, twofold:

Carrying over cases from the obsolete system
During use, to bar double entries

Automatic alerts (e-mails) for milestone developments
User roles with different authorisation levels
Data validation and conditional workflow progression
DMS, up- and downloads.
Rollback provision: unsatisfactory cases may be sent back in the workflow for correction
Workflow timers to enhance deadline management
Dynamic data management: depending on X, Y, Z, provide A, B, C
Modular / flexible reporting
User-specific dashboards
Short development time through use of standard Proquestor building blocks
Tailor fitting restricted to customer-specific details for easy maintenance
SLA including hosting at co-location and support as per ISO 9001 and ISO 27001
Layout per ZIU CI
Security
Simplicity
These demands, including a comprehensive manual and training, have of course been realised to the customer's satisfaction.
System description
Proquestor ZIU consists of two web-environments: one public environment for intakes, in which external parties can request treatment using online forms; and one internal environment for "coaches" to register and track their cases. The project leader has a bird's eye view and reviews intakes as well as coach progression, rejects or approves, and returns insufficient cases where necessary.
Be advised that this specific implementation has been developed for a Dutch client and is Dutch language only. Screenshots will thus display Dutch text.
Public environment
The intake environment is freely accessible and looks like this: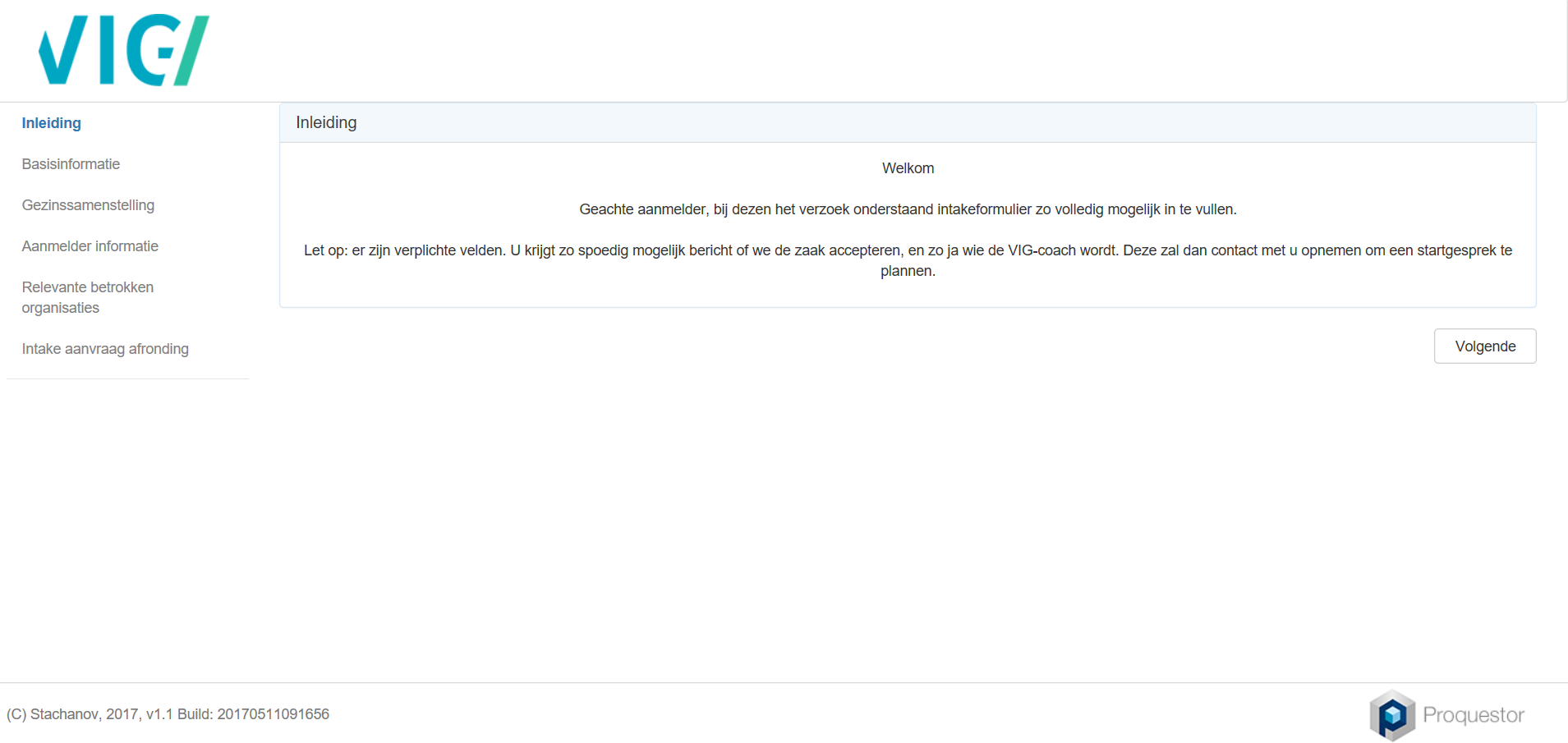 Third-party applicants fill in the relevant information, constrained by data validation. Mandatory fields, as well as social security number and postal code validation are elements in this process. The personal details shown are either dummy details or obscured.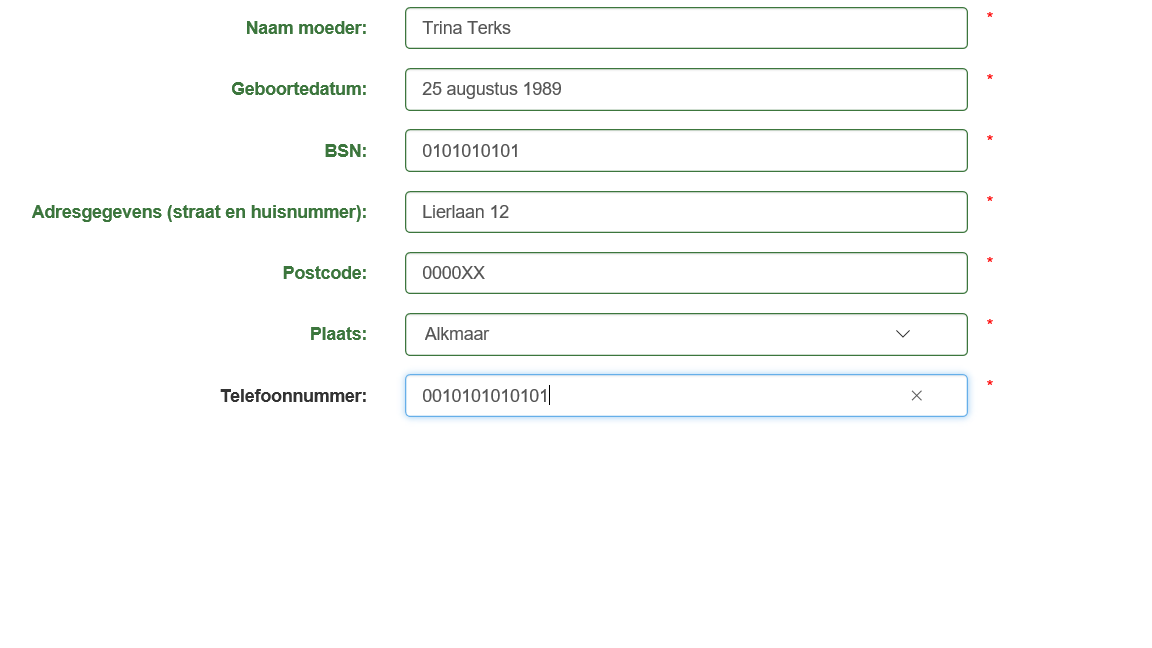 The information given is automatically transmitted to the internal environment, with the possibility to check and edit details to avoid double entry.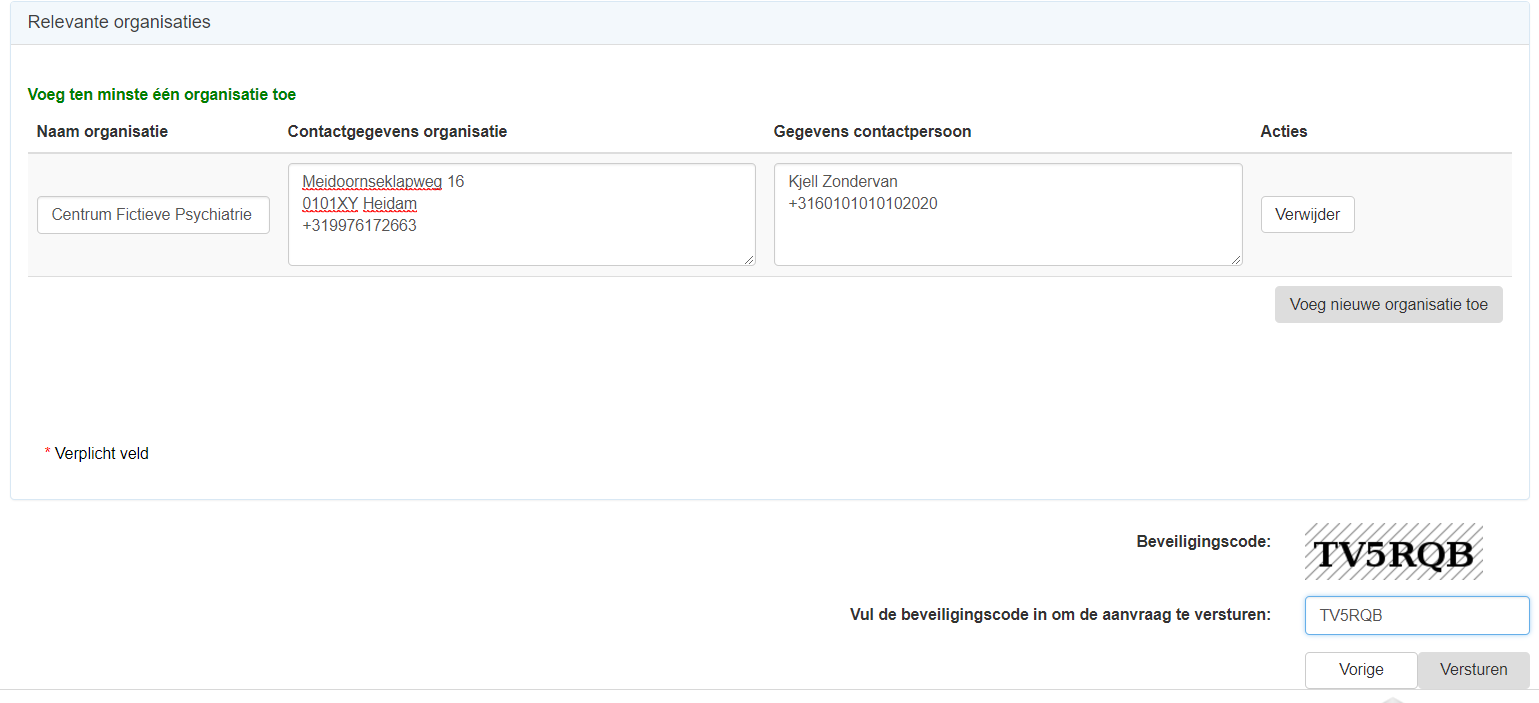 A captcha is required at the final step of the intake to bar spam and form filling robots.
Internal environment
The internal environment is restricted to ZIU personnel and looks as follows upon arrival: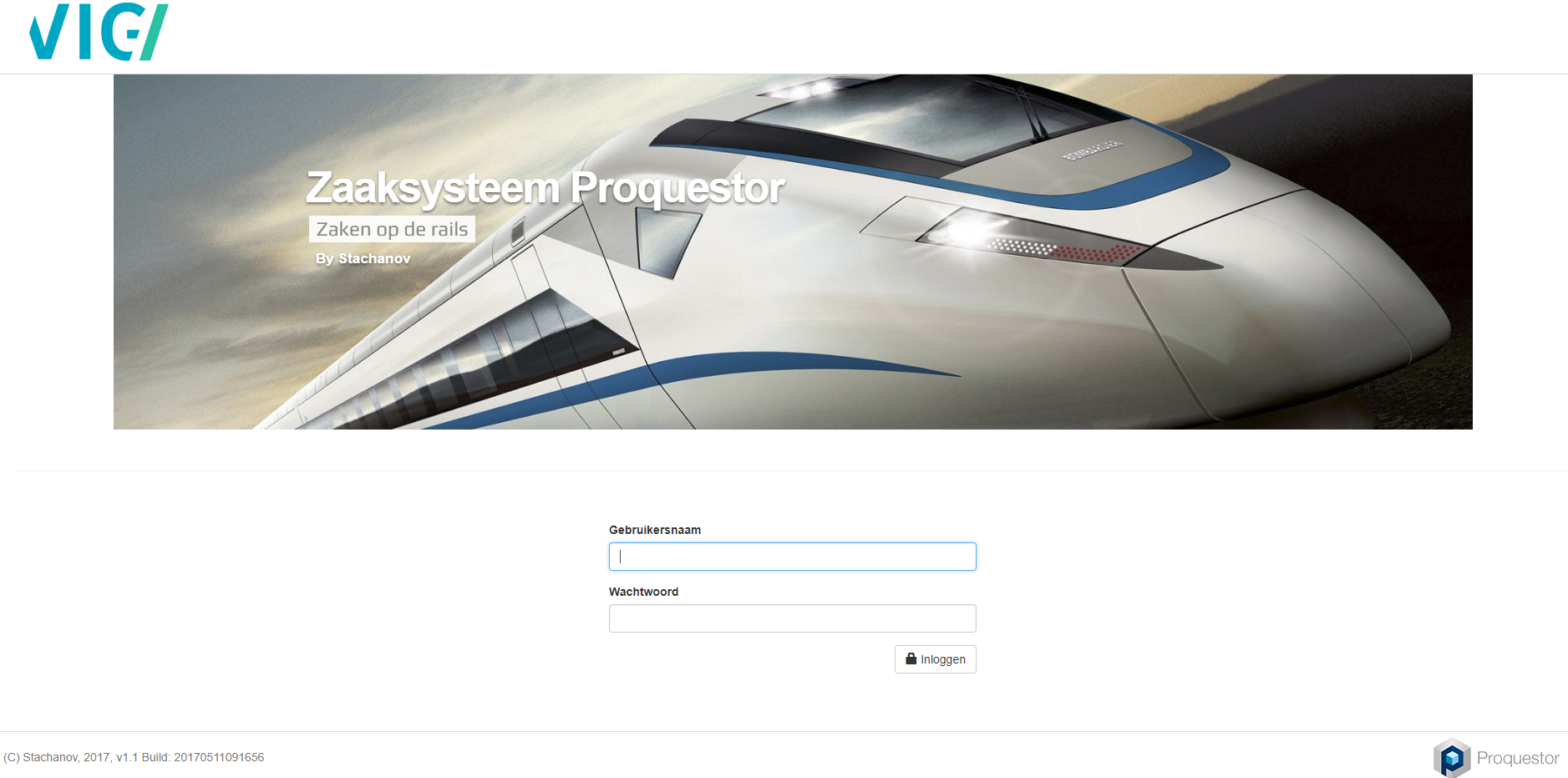 NB: Out of respect for the client's integrity and working procedures, only snippets of the actual screens are shown. In reality the pages and forms are much more detailed and expansive, with various areas to be reported on, patient and expert opinions, and third-party feedback.
Workflow
The workflow makes up the tracks of a VIG trajectory, the case is the train. A portion of these "train tracks":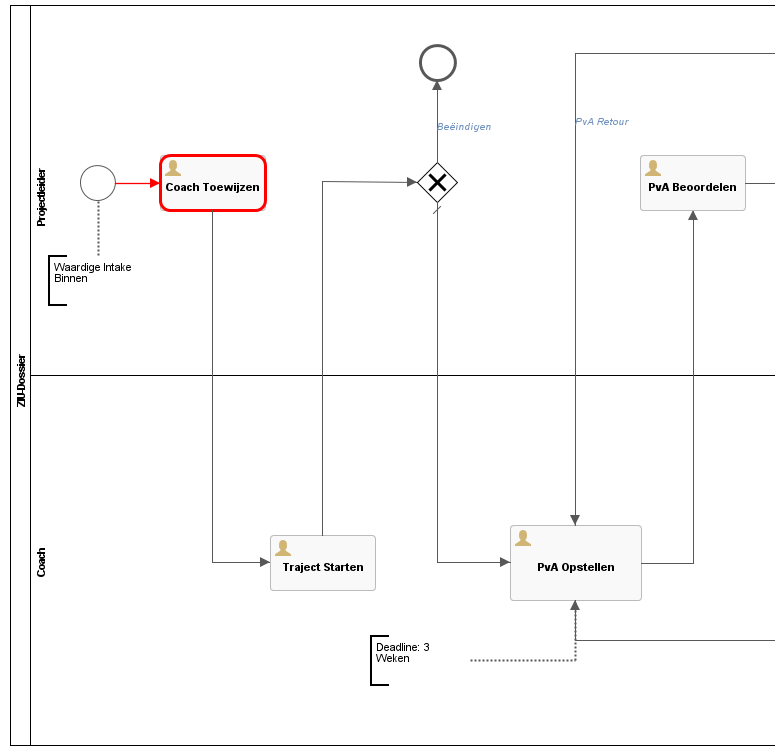 Each step requires its own action, carried out by its own user type, in order for the train to be able to ride. You can see deadlines that provide alerts, exit points, return routes, and current-step highlighting. This is the core of Proquestor.
In addition, various types of validation, together with rollback possibilities, function as the train's brakes to ensure clean progression.
Example of a form: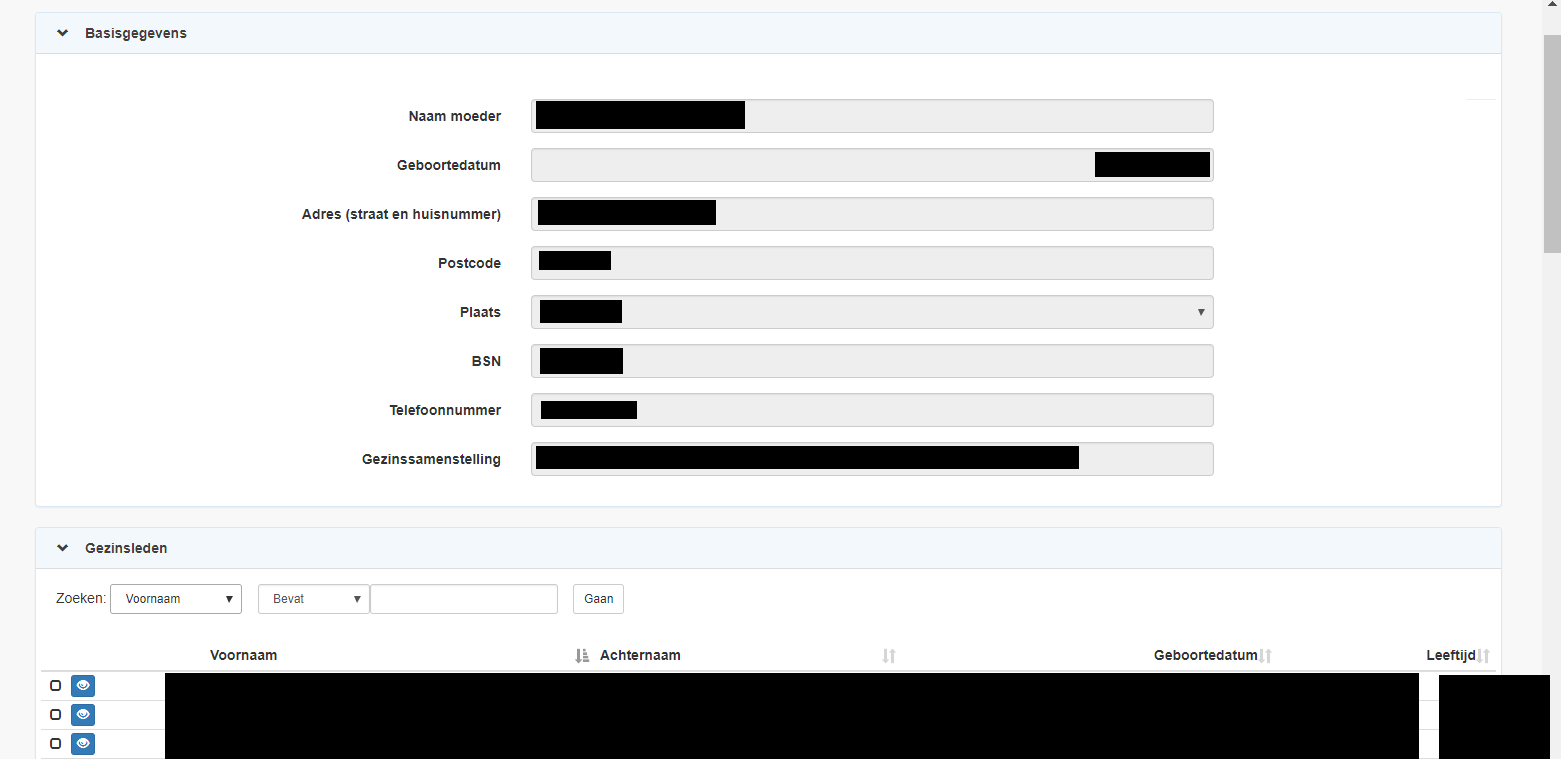 Advancing or exiting the workflow: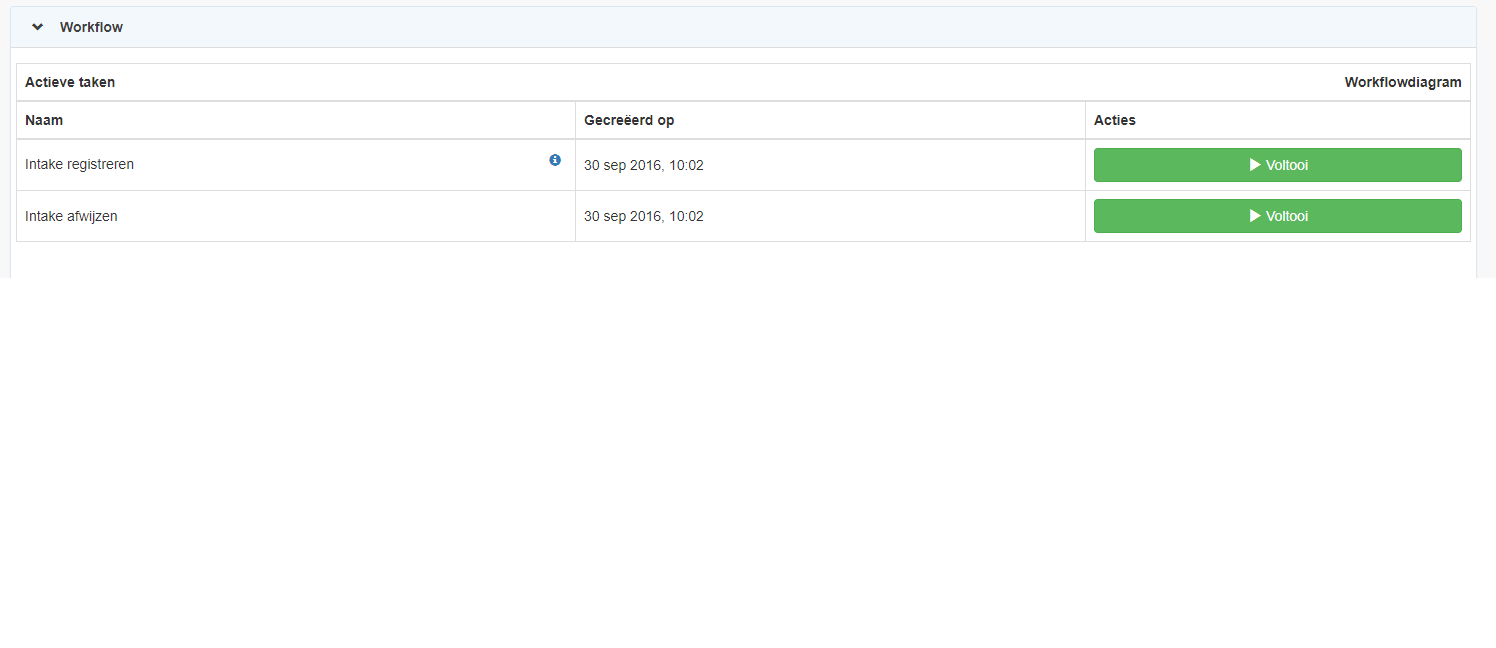 Storing documents: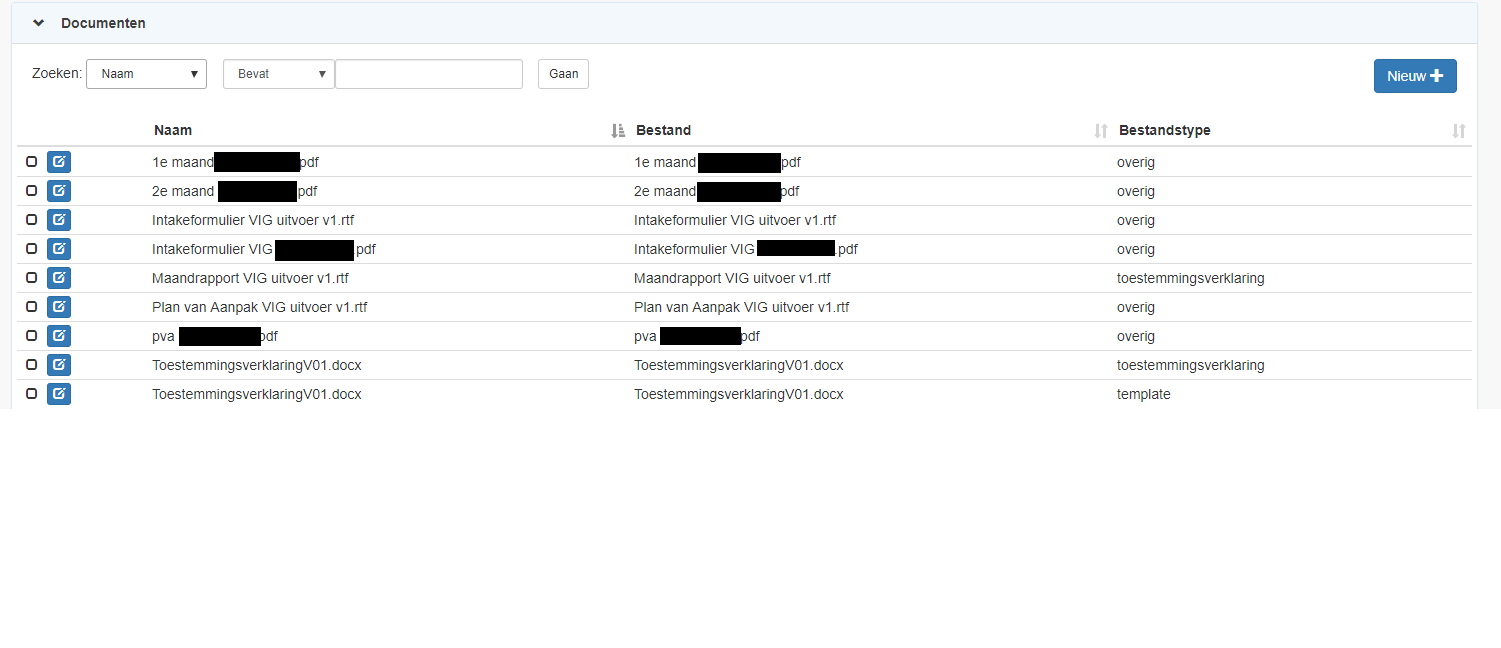 Adding a document: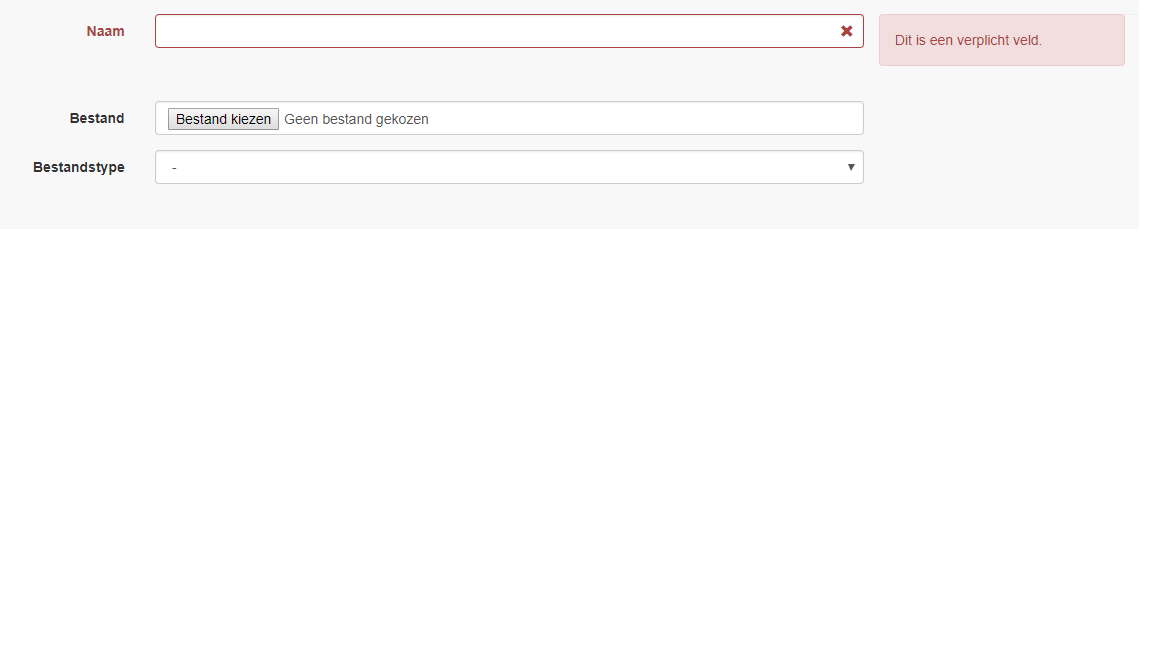 Coaches guide VIG patients to formulate goals, which are divided in sub- and end goals. A look at managing goals: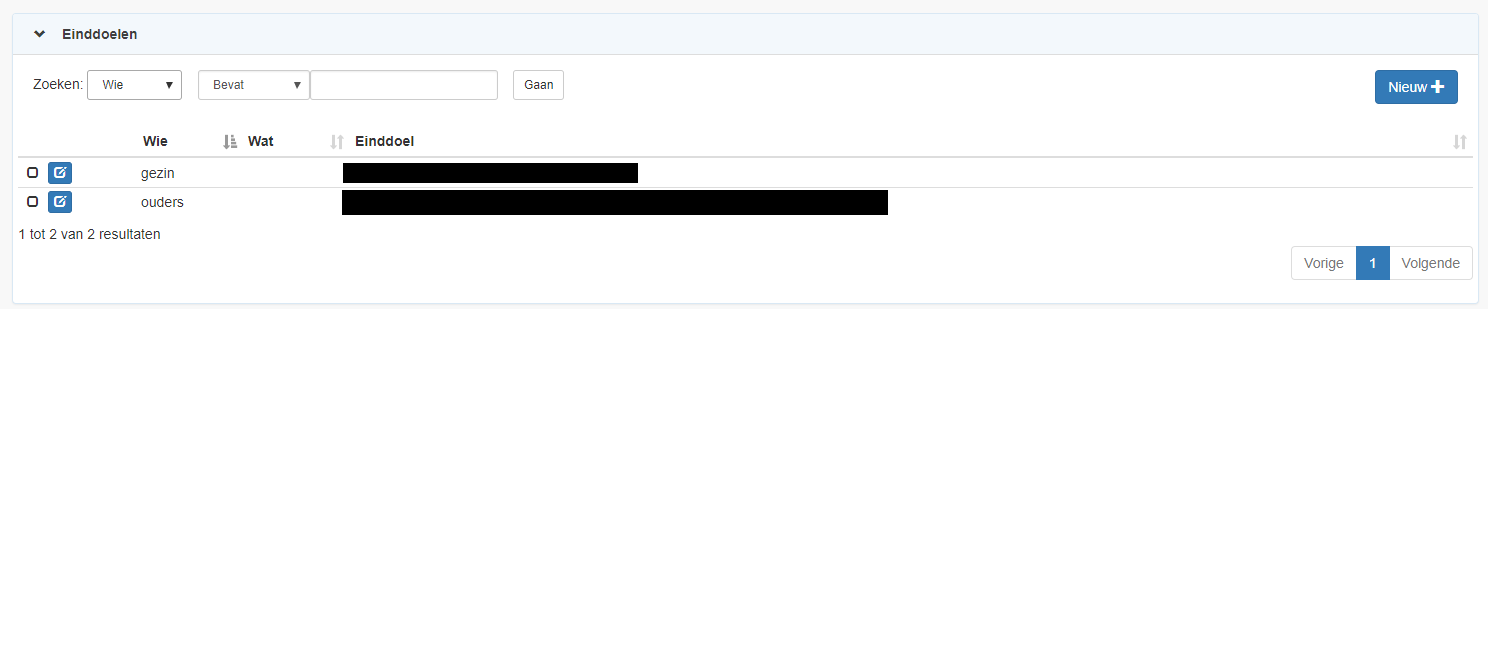 Adding an end goal:

Sub goals are linked to end goals: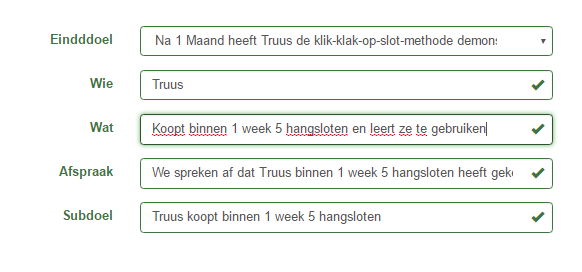 Coaches register the degree of goal achievement by applying A-B-C labels: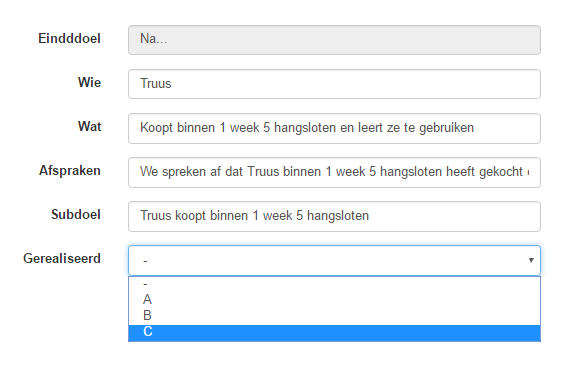 Depending on the degree of achievement, goals may or may not reappear over the course of a case
Project leader validation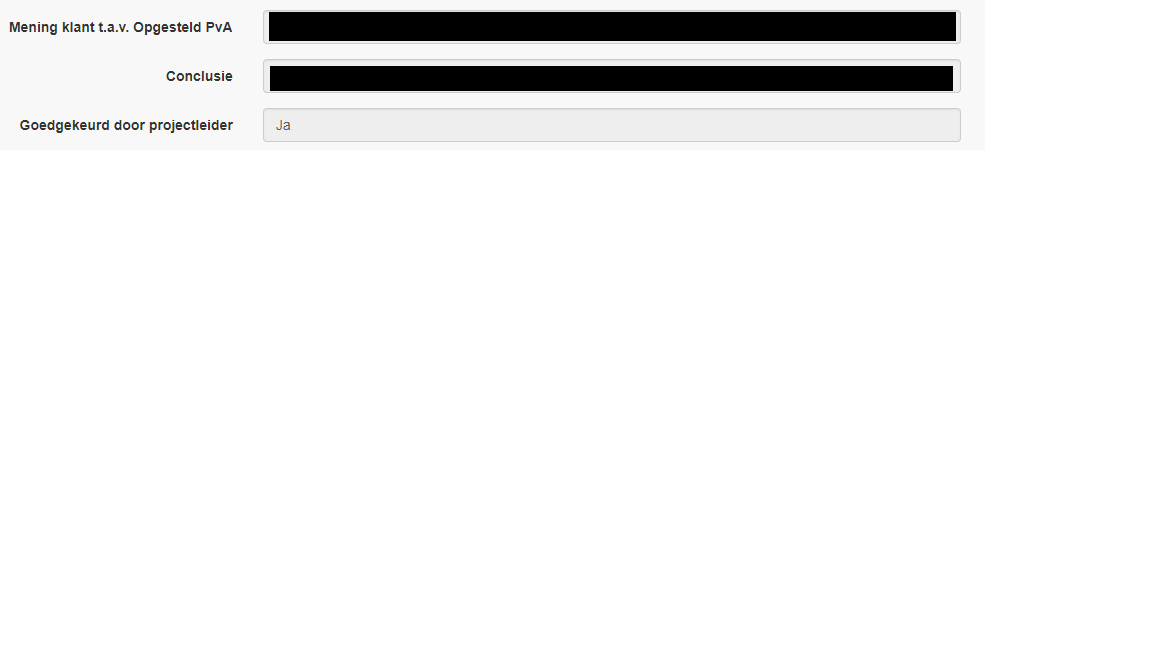 Closing a case:

And

And 
And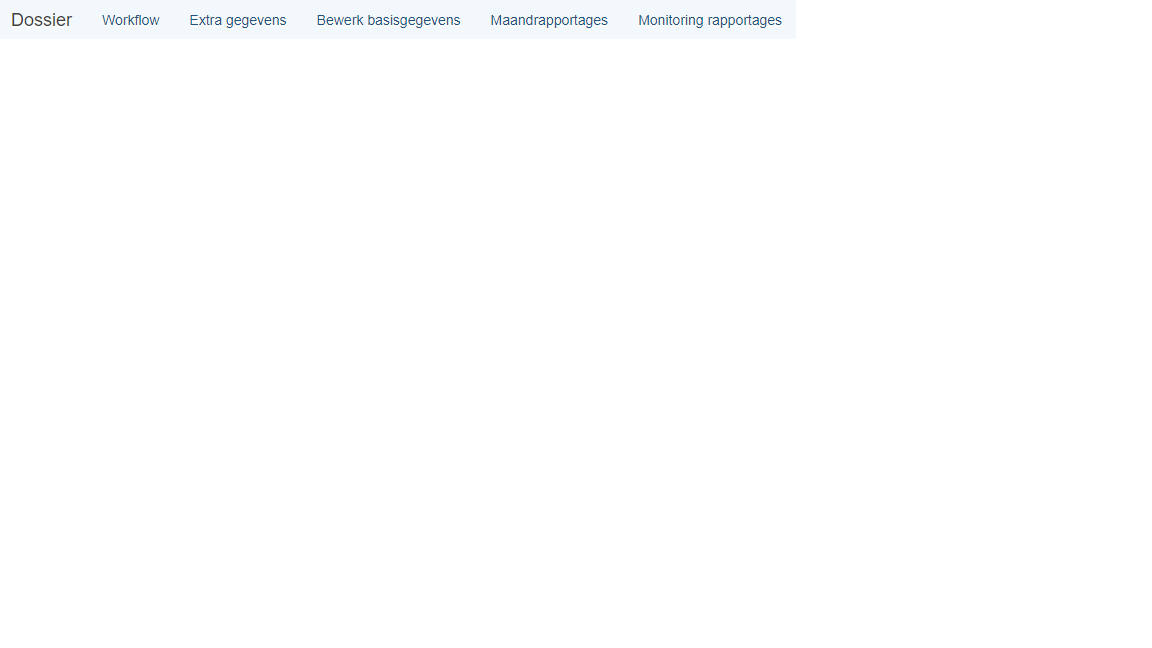 And